Welcome back to the newsletter. Thanks for listening to my experimental podcast episode. The stats would indicate that it went down well! I might do some more!
---
This week I've been beavering away on my Explore the Peak Park website. It's coming together nicely (I love the StudioPress theme I'm using). I always enjoy the process of building a website, especially for myself as there's no consultation needed - it's all in my head. It is an evolution and an unfolding. I start with a basic premise and then other possibilities pop up along the way, both in terms of the website and also the scope of the project.
The website is very much a framework at the moment as the content won't really start to be added until we move to Derbyshire. But I have a plan now!
This is the logo and website colour scheme.
---
I recorded some more podcasts this week. I have another three still to record and then the series is complete, apart from the editing. They've been brilliant conversations and I can't wait to share these. I've been using MatchMaker.fm which was new to me - it's a fantastic way to connect with other podcasters, to source guests or to be a guest. If you have your own podcast or would like to be someone's guest, I'd definitely recommend it.
---
One of the guests I spoke to, Wendi Freeman, is also a productivity geek like me and I mentioned my favourite app, ClickUp. I came across ClickUp a couple of months ago. I think I just searched for similar to Trello. Although ClickUp has been going for a few years, it was the first time I'd heard of it.
So, I was amazed when Wendi had not only heard of it, too, but also uses ClickUp. We both agreed that it was amazingly comprehensive and one of the best tools we had found.
I've tried so many apps over the years and there are lots of great ones out there. But I've always reached a point where my productivity dips. I sometimes find that, if I miss a day or two, I get overwhelmed by the list of overdue actions and then it's hard to see the wood for the trees.
ClickUp has been a different experience. Yes, I have a few overdue tasks but I can see what I need to do today, first. I love the Inbox which aggregates all my actions, in the right order.
ClickUp is a bit like Trello - there's a Kanban view - but it also has a Gantt chart view, Calendar, MindMap, Timeline plus others. It's designed for either individual use or for a team. What I love about it is that it's so customisable and adaptable.
I am just using the free version and for a sole user, that's all you would need. You start by creating a Workspace so you could separate out multiple ventures. I did have two Workspaces, one for me and one for Chris, but decided it was easier to have a shared Workspace.
Within the Workspace you have Spaces, which you could think of as projects. So, I have Admin, A Gentler Pace, Explore Peak Park, The Blind Woodturner, and House Move. Within each of these you create Folders so, for example, House Move has a folder for House Sale, House Purchase plus New House.
Then, for greater granularity, you can add Lists to your Folders. Under House Sale, I've created a List for each room in the house with tasks such as defrost freezer! Or, take glassware to charity shop.
You can keep it simple or make it more complex with labels, different fields such as dropdowns with status indicators. I'm geeking out at the moment adding a lot of this functionality, especially for my website content in order to create a workflow.
I have absolutely everything in ClickUp - from my shopping list to my project plan for the house move. I'm just adding contacts at the moment so that I have a CRM function. Of course, ClickUp integrates with Google Calendar too, which is a must for me.
As you might be able to tell, I am loving ClickUp but then I am a big tech fan! It's definitely keeping me on track.
---
We did an airport pickup this week and, while we were waiting, I spotted this plaque in Terminal 3.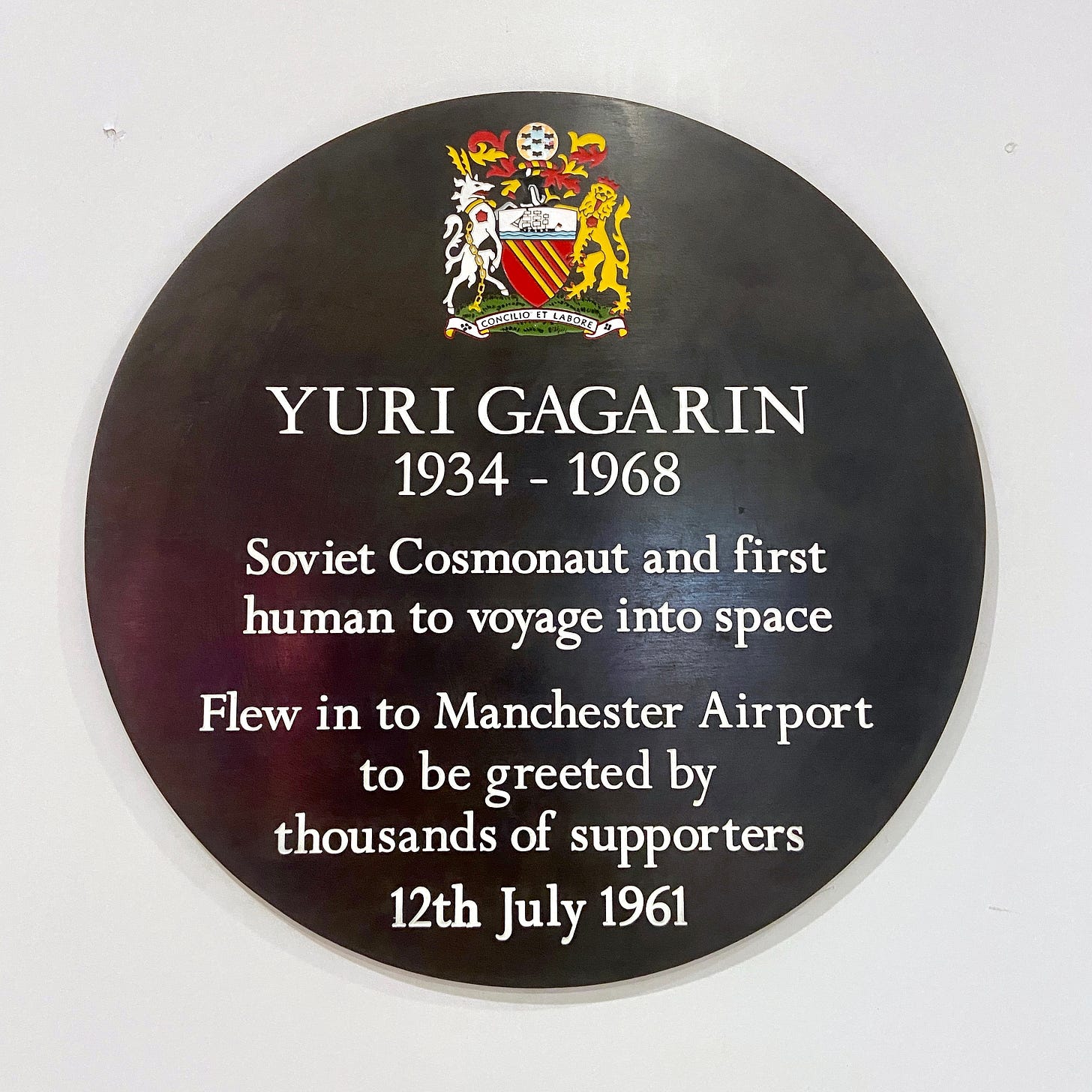 ---
This week's question is, do you use a productivity app and, if so, which is your favourite? I'd love to hear what works for you. Look out for the email with the link to join in the conversation. Have a great week!
Until next time, thank you for reading.
Nicola